For many of us, the holidays are synonymous with chaos. On top of travel and final work deadlines for the year, we have the pressure of gift shopping. And we usually put it off until the last minute.
With mymind, giving now feels more intentional and meaningful. Instead of scrambling for obligatory gifts, we slowly save ideas on an ongoing basis.
Creating a gift list in mymind
When someone mentions something they want or need, just tuck it away quickly in your mind. Put it in a note or save the link along with the tag gift, and you'll remember it when you need it.
Later, when a holiday or birthday comes around, just search #gift to find all your gift ideas. Even better, surprise someone when there's no special occasion.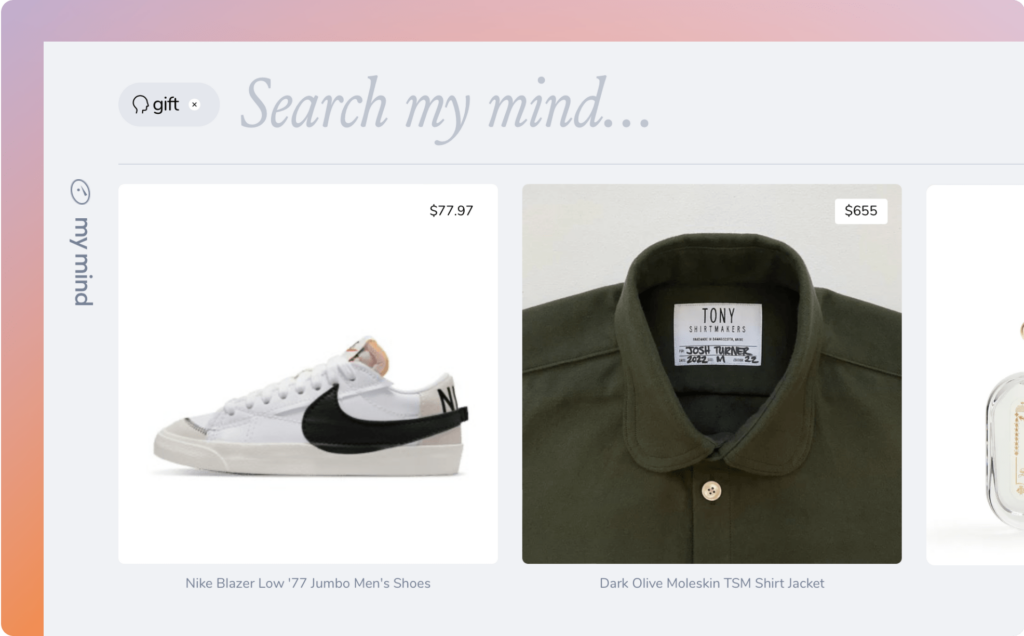 Saving a gift wishlist
You can also use mymind to remember gift ideas for yourself. Just save the link and it will show up as a product in your mind. A quick type:product search will reveal everything on your wishlist.
An unexpected side effect: The act of saving the product to your mind can relieve the intensity of longing for it. Often, your product search will reveal things you no longer need or care about, which frees you from it. You can delete it from your mind and move forward.
__
Instead of making last minute, stressful purchases for the people you care about, you can now simply draw from your mental database. Gift giving is now a mindful act, as it's intended to be.