Everyone from writers to scientists use mymind. You don't have to be a visual creator to appreciate the clean and visual nature of it.
As designers ourselves, we couldn't help but build some special features for the visually minded person. Here are just a few ways designers use mymind, which might be useful to you whether you design or not.

To save visual inspiration without thinking
Typically, you're saving Instagram posts, littering your Camera Roll and desktop with screenshots, creating messy folders in Dropbox and who knows where else.
With mymind, you can save all your visual inspiration in one place. You don't need to organize it because your mind does it for you. Your real brain can keep moving without interruption, opening you up to even more beauty and ideas.
To create instant, curated mood boards
It starts by saving a photo you took, or an image you found browsing online. Then a typeface you want to remember for a future project. Maybe a poster or a logo you find interesting.
When starting a new project later on, you either search "typeface," or a specific tag like "poster," or even just a color, and you instantly have an inspiring mood board for your project.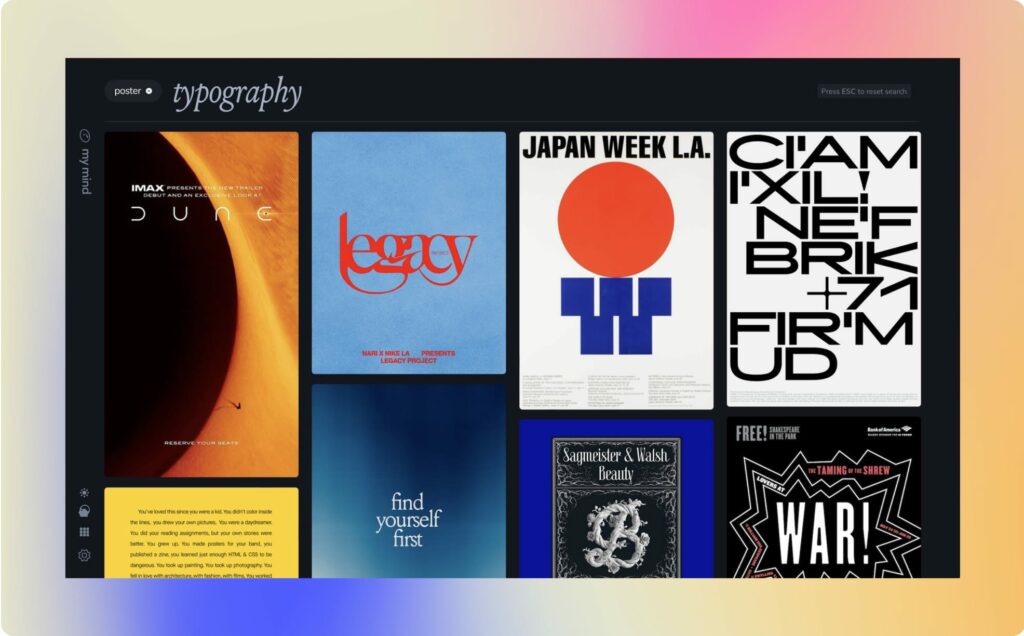 To save a personal library of colors
Every time you add an image to your mind, it magically extracts the most prominent colors and creates a color palette around it. So that sunset or moody city shot you captured could define the colors for a future campaign or branding project.
You can also drop hex codes or color palettes into your mind directly. So when you search the color "red," your mind will show you every palette, hex code or image containing the color red. It's like having your own little library of colors always within reach.