Whether you're a designer or not, you know Randy Hunt's design-minded products: He's the former VP of design at Etsy and former head of design at Artsy, among leading and founding roles for several other products and online marketplaces. A longtime New Yorker now based in Singapore, Randy is currently the CPO at MORNING, a Southeast Asian coffee tech startup.
As a designer and curious person with opinions (just browse his personal website), Randy couldn't be a more fitting mymind member to start off our new "Into My Mind" interview series. Here's what's on his mind right now.
What's the best compliment you received recently?
Over a double date the other night, a friend said to my wife and I, "I really admire how you make friends and invest in relationships. You really connect with a place." I don't think we've ever thought about it that way, but it was really enriching to have that reflected back to us. Small things are big things, ya know?
What's the last thing you read?
I like to read a couple of things in parallel: one for the day, one for bed-time reading. The two most recent:
Kurt Vonnegut's Timequake. Around the time of our first pandemic lockdowns in 2020, I was reflecting on how I used to really enjoy Vonnegut 20+ years ago, but had only read four or five of his novels. I decided to read them all, chronologically. I'm almost done.
The City We Became by N. K. Jemisin. It's an adventure fantasy sci-fi futurist story that takes on all sorts of social themes through characters that embody the different boroughs of New York City. It's a treat.
What book do you want to read next?
My mentor and a great champion for designers everywhere, Steven Heller, just released a memoir, Growing Up Underground: A Memoir of Counterculture New York. It's queued up in my stack.
A quote that's meaningful to you?
"An explained idea and a demonstration of the same idea often have little in common." – Rick Rubin
Highlight the text, quotes included, and right click to save this to your mind as a quote.
Best gift you've ever given?
Gave my wife a studio-worth of rug-making gear to enable the pursuit of a vision she had. It's been awesome to see it grow over the years.
Where do you want to travel to next?
My friend opened a hotel in Kuala Lumpur. I haven't been to KL since the start of the pandemic, and I'd love to see what they've created there.
What would you buy, if money weren't an issue?
A home that's a perfect match to my taste, and a limitless supply of comfortable and environmentally-friendly transportation for friends, family and colleagues to come visit me.
What hobby would you take up, if you had the time?
I don't desire any new hobbies.
What is the funniest tweet you've read lately?
This is particularly good. It's a specific technical reference, but anyone who has been part of something that's more complicated than it seems can relate.
Click the + button in your browser while viewing the tweet to save it to your mind.
What's one thing that shows up when you search "blue" in mymind?
Drinkers, a painting by Xiao Wang. I saw this piece at the Spring Break Art Show in NYC in 2021. I think about it often.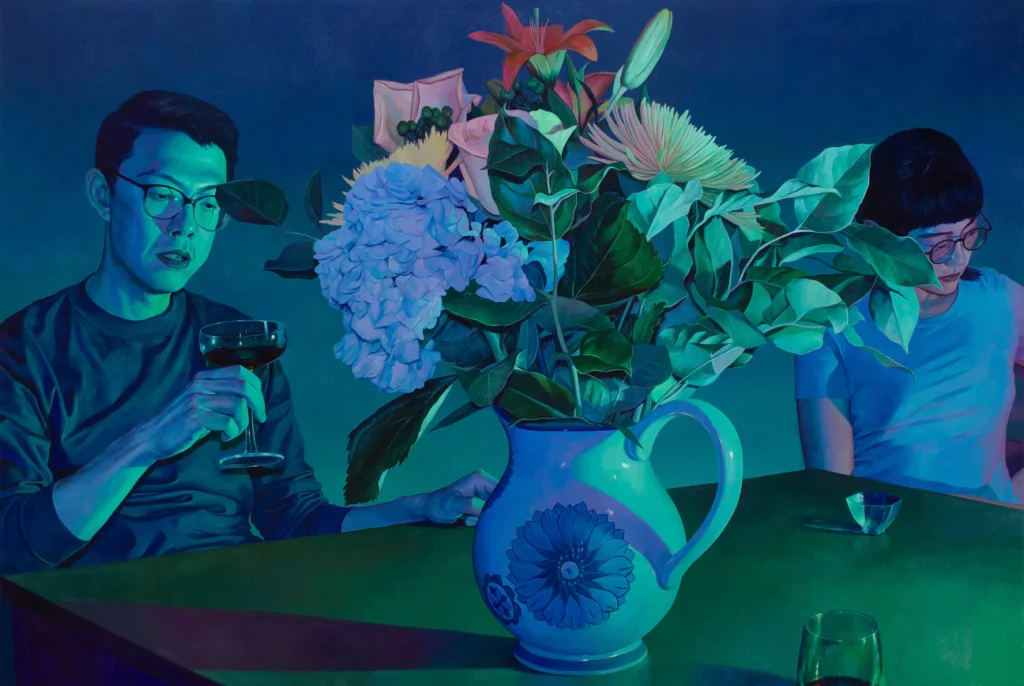 "Drinkers," by Xiao Wang. Right click the image to save it to your mind.
What's the most beautiful thing in your mind?
A sense of calm.
✦
If you discovered something inspiring or beautiful here, you can save it forever with a click using the mymind browser extension.