Every tool for marketers is focused on project management, team collaboration and planning. But good marketing requires creative energy. Inspiration. Individual exploration.
That's where mymind comes in.
Account managers, project managers, media specialists, content marketers and more use mymind to fuel their work. Here's how.
To save quick notes & todos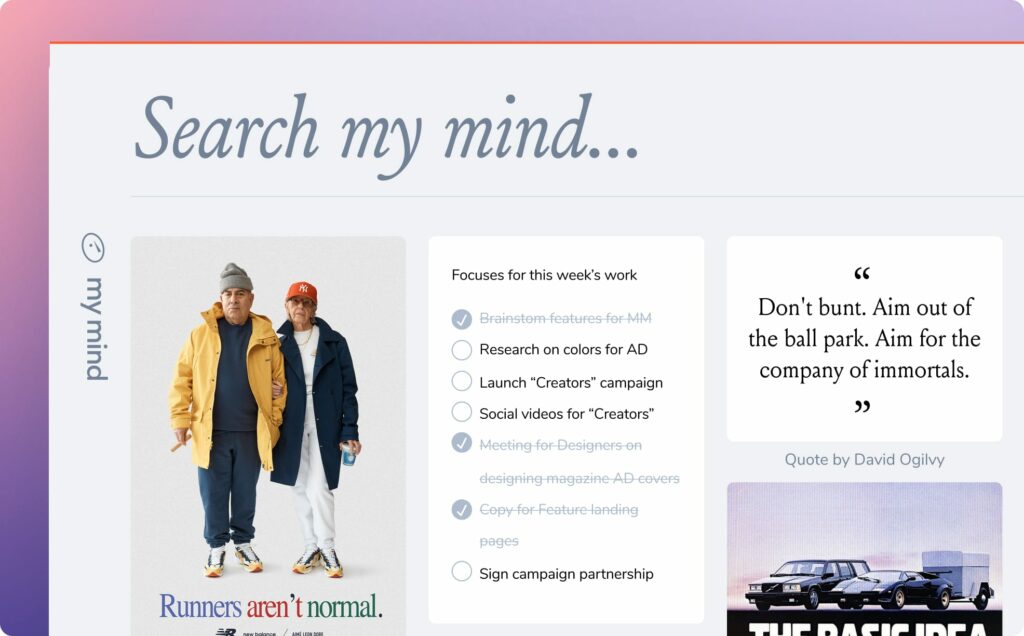 You are a master of multi-tasking. You absorb information, process it quickly and keep moving. Along the way, you forward email feedback to your mind. You jot down notes in a meeting. You checkoff todos while adding new ones. You use mymind as your personal assistant, relying on it to catch everything and keep up.
Offloading the little things from your real mind frees up mental energy to put toward the big things.
To find creative energy & inspiration
mymind is your place to rest your mind between meetings, get inspiration and nurture new ideas. It's your private treasure trove, filled with everything that feeds your real mind:
✺ Campaign case studies
✺ Praise from clients and coworkers
✺ Ad inspiration
✺ YouTube tutorials
✺ Website references
✺ Books and articles that inspire you
As a personal knowledge database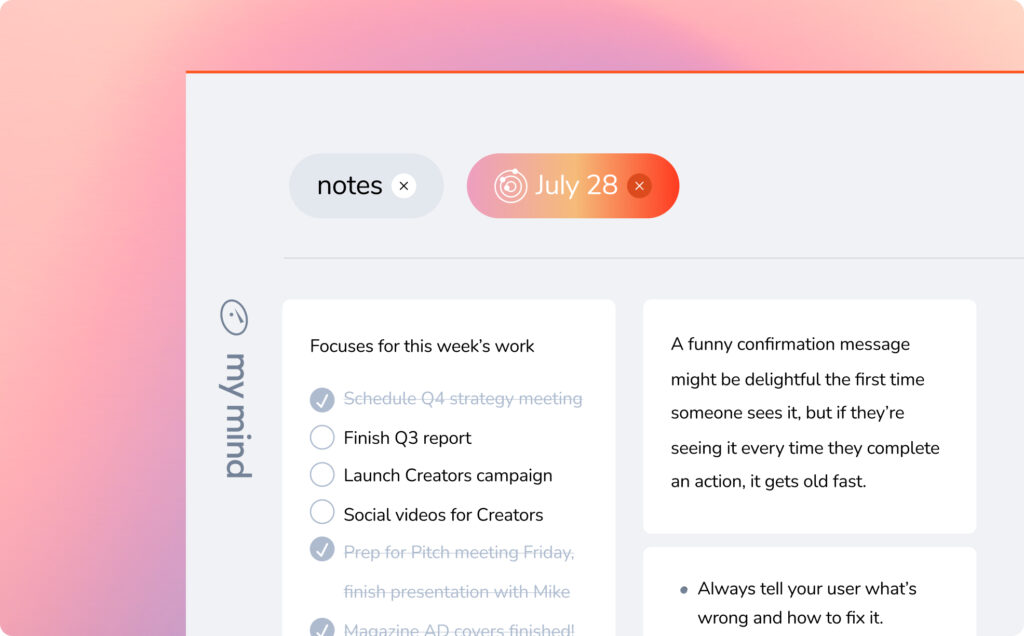 You're quick on your feet, with answers and information ready at a moment's notice. You search a keyword, tag or term and your mind instantly shows you what you need:
✺ Search todos and see everything on your list for the week.
✺ Search notes + July 28 to instantly find your meeting notes from that day.
✺ Search #q1planning to find all your images, articles, notes and links saved with that tag.
✺ Search any keyword you can remember and mymind will find what you're looking for – even if that word appears in a graphic, screenshot or photo.
mymind is your own personal Google, with the ideas, notes, lists and resources that are important to you.